The sickest artist to come from London will be having a new solo show over at Montana's gallery. Sickboy is to present his new artworks via Yellow Pants curatorial project on the 3rd of February. I can say I'm loving these new pieces from him. Inside you can find the flyer, press release and all the info for the show and pics from the talented Viktor Vauthier.

"Burning Desire" by Sickboy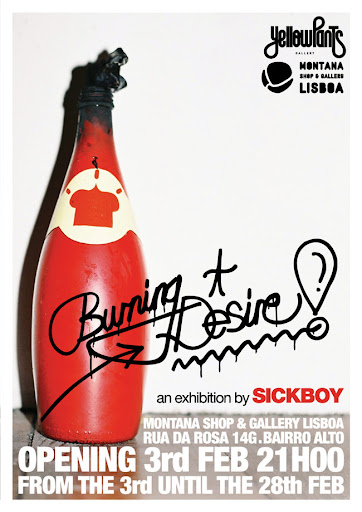 All pics by Viktor Vauthier

Yellow Pants Gallery is proud to present BURNING DESIRE, a solo exhibition of new work and site-specific installations by Sickboy, this February in Montana Shop & Gallery Lisbon, Portugal.
Sickboy is a well known London based street artist that got us used to strong visuals and bold messages, both in and out of gallery spaces.
He uses, in a convincing way, a surprising mix of two different kinds of artistic speech in his work: you might know him for his insanely detailed canvases or his bold statements and really graphic icons. But in case you just don't know him at all (please do feel ashamed!) you should seriously think in passing by Montana Shop & Gallery Lisboa one of this days… What you'll see is what Sickboy does best: being himself in the middle of a crazy world that sometimes makes you want to enjoy the ride, and other times just makes you feel like screaming and telling everyone to… well, you know…
His commercial work relies on prints, mixed media canvases and some amazing installations to set up the fantastic universe whereSickboy inhabits.
And that's why we're so happy about bringing him to Lisbon, because this way he'll be able to share his amazingly colorful and passionate universe with a new and totally different audience! We think he's happy to come too. At least he'll enjoy better weather than what he's having in London…
So, if you're interested in getting a little bit of this show home, want a preview of the catalog, or you just need to get an answer, all you need to do is contact us: info@yellowpantsgallery.com
The exhibition opens on the 3rd of February 2011, and it'll stay until the 28th at Montana Shop & Gallery Lisboa.
About the Artist: A leading artist to emerge from Bristol's infamous graffiti scene, Sickboy's humorous work has cemented his place in the upper echelons of the British street art movement. He is one of the first UK artists to use a logo in place of a tag, and his red and yellow street logo known as 'The Temple' can be seen on walls and wheelie bins worldwide. A long-serving artist with Pictures on Walls,Sickboy has built up one of the largest bodies of street art works in UK history and he is tipped by the leading financial press as one of the movement's most investable and influential artists. His temples, slogans and street stunts – including the caged heart installation dropped outside the Tate Modern in 2008 – have landed him global recognition. www.thesickboy.com
About Yellow Pants: Yellow Pants Gallery represents a select group of emerging and established artists focusing on showing and furthering urban and contemporary art.
We are committed to introducing challenging and innovative works of art to an international audience while pushing the boundaries of the art scene in Lisbon.
Yellow Pants Gallery curates exhibitions and events in different spaces and locations, providing the artists the right platform to showcase their work while making it accessible to a wide and diversified audience. www.yellowpantsgallery.com
"Burning Desire" (RSVP facebook event)
Where?
| | |
| --- | --- |
| Start Time: | Thursday, February 3rd, 2011 at 21h |
| End Time: | Monday, February 28th, 2011 |
| Location: | MONTANA SHOP & GALLERY LISBOA Rua da Rosa nº14G – Bairro Alto |