Vhils has been working on several pieces in LA with JR as seen here before, but that was just a preparation for the group show from Lazarides entitled "Eurotrash" that just took place yesterday night, and Unurth blog was there to document it. Alongside Vhils were international JR, Conor Harrington and Antony Micallef.

In concrete we trust
Paper works just as fine, thank you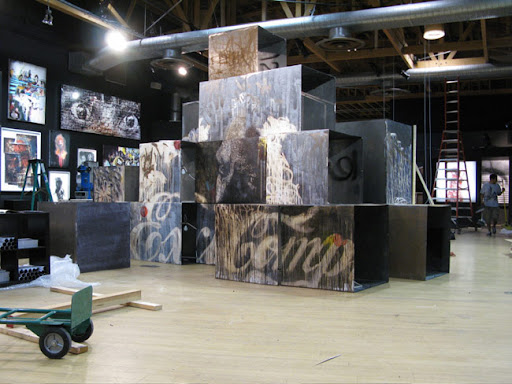 I personally like more of the carved pieces over the poster series, but I must admit a poster over at my house would look just as good as an etched wall, eheh. I'm proud to see a friend going as far as he's going in this art world.

Check Unurth for the rest of the show with JR, Conor Harrington and Antony Micallef pieces. Must see.

Oh, and word just got out from a bird in town that Vhils was asked by Orelha Negra to make a one day installation for SWtmn, so for all you Sudoeste party people, get some good shots of the piece.
Com o disco de estreia ainda fresco, apresentam-se no palco principal do SWtmn acompanhados por Vhils aka Alexandre Farto, jovem talento da street art, com uma instalação montada no próprio dia, apenas para este espectáculo que, mais que um concerto, promete tornar-se num experiência.via http://www.musicanocoracao.pt/index.php?c=46