Since most of you may know, today is the day most americans will have the pleasure of watching one of most talked about movies in the art world this year. But as expected, Portugal is not looking for a brighter future in the waiting line of the countries that will host the movie. I mean, what's the percentage of Portuguese people who know Banksy, and would thus make a good share of possible audience for the Portuguese cinema? On the other hand, if it was a Cristiano Ronaldo movie…

Why the wining?
Because anyone who's interested in the whole street art movement, will want to see this movie. England, Germany and now the USA have all had their share, and still… no leak on the movie as been seen online.
And LA has already started receiving Banksy

Meanwhile, this wall was already removed for a possible sale as reported by JetSetGraffiti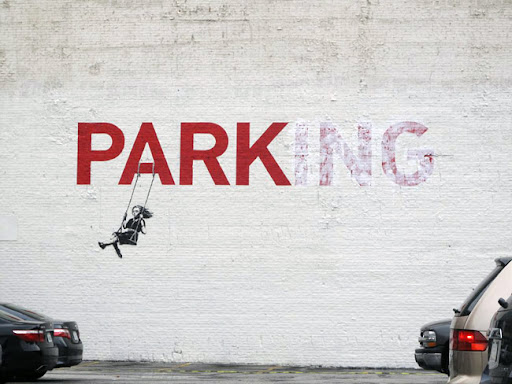 But the preview was a big hit as seen on Arrested Motion

Theater workers dressed as bandits.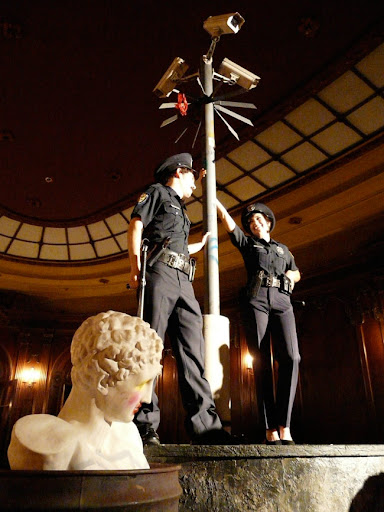 And pole dance cops. I heard there was actually a movie screening in the end (Irony inside).
All pics above this line are by ArrestedMotion and there's a lot more here.
Only option now…
After looking at the only possibility to find the movie in Portugal, sniffing inside the Indie Lisboa film festival program, I convinced myself that I'll just have to wait for someone to leak it online, or wait a year for the DVD release, which I'm sure will happen. Don't get me wrong, I'd buy a ticket to the movies, and most likely a DVD…
So, right now this was the only thing I could think off… going outside to the corner and get that old fashion Slippery Hands dealer, selling the movie in an old school K7 tape, ripped straight out of the movie with people in front!


Even if it was only to get home later and find out it was just a lousy bootleg. I'd still be happy for the day.

Dirty Hands is another one of those movies you'll just have to wait. No way this would go anywhere near Portugal. Someone please move their contacts and start making things happen in Portugal.
For the love of Art…